Case Study: Investment Sense helps drive Charnwood Golf Range forward
Peter Spencer and Dale Wood were frustrated tenants.
They held the lease for the sprawling Charnwood Golf Range complex and had big plans for the site but could do nothing with these plans as they didn't own it. They were also paying too much in rent for the site.
Charnwood Golf Range is situated just outside Loughborough on the A6 and contains a state of the art driving range, large golf shop stocked with all the latest equipment, a large bar, restaurant and 5 a side football pitches.
Not only did Peter and Dale feel as though the rent they were paying was 'dead money' they also have plans to expand the services offered on the site, which they could do nothing about until they owned it.
Dale said: "As soon as we took the site on we renovated the golf shop to an extremely high standard and the driving range to add in new bays and electronic tees. However, we felt that the site could be so much better, there are large wasted spaces, which we wanted to develop, but couldn't as we didn't own the site."
Peter added: "We felt that if we could buy the site we would be able to develop it in a way that would maximise its potential and provide a great sporting venue for Loughborough and the wider community."
Fortunately for Peter and Dale the current owners wanted to sell and they soon agreed a price. However, in these tough economic times would they be able to find a bank willing to back them? How would they find a large enough deposit?
Pensions provided the solution
Peter and Dale asked Investment Sense to help and we were delighted to assist.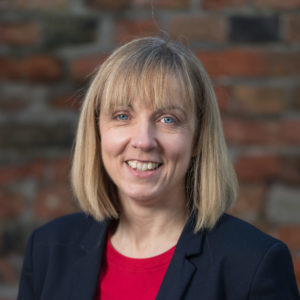 Sarah Bray (above), one of the Independent Financial Advisers at Investment Sense, takes up the story.
"For Peter and Dale to buy the range we needed two things, a personal contribution from them and a bank willing to provide the remaining funds. It soon became clear that Peter and Dale wanted this to be a family affair with their wives and also Peter's father, ex Golf Pro Howard Spencer making up a five strong team."
Sarah continued: "All five members of the team had pensions which they were prepared to use to help fund the purchase, of course we discussed with them the pros and cons of using their pensions to buy the range, as well as the mechanics of how it would all work. We also needed to arrange bank funding, which was always going to be the most challenging part of the deal."
Banks
Getting a bank on board who were prepared to help finance the purchase and also believe in the vision that Peter and Dale had for the site was always going to be a challenge  especially when the business pages are full of stories about banks refusing loans to small businesses.
We started by preparing an information pack and circulated it to a wide range of banks and lending institutions. As expected some very quickly and said "no", however two banks were very interested and met with Peter and Dale to discuss their requirements in more detail.
Following these meetings both banks issued offers, leaving Peter and Dale in the enviable position of having two banks to choose from. They chose Lloyds TSB and the first part of the deal was in place.
Pensions
Once the lending had been agreed we could move forward and put the pensions in place.
Sarah Bray again: "There are two types of self invested pension we could have used, a SIPP (Self Invested Personal Pension Plan) or a SSAS (Small Self Administered Scheme). For a variety of reasons we chose a SIPP, however with five members it was never going to be straightforward."
After listening to the requirements of all five members of the team Sarah concluded that when selecting the right SIPP cost was important but so was the level of service; coordinating this was not going to be easy.
After a thorough review of the market Sarah recommended that each of the team take out a SIPP with Talbot & Muir, and arranged for the transfers of the existing pensions of all five members to take place.
Sarah said: "We needed to use a SIPP provider who we felt confident could handle a syndicate of five SIPPs and work well with us, the Solicitor and also Lloyds TSB. We selected Talbot & Muir who performed brilliantly and did not let us down."
Completing the deal
Having found the lender and arranged the SIPPs the deal was completed, not without one or two final obstacles being thrown in our way, but with the cooperation of all parties solutions were found.
Peter Spencer said: "We are delighted to now own Charnwood Golf Range, and can now move forward with our plans for the site; we are truly excited about what we can create here, and look forward to being part of the local community. We could not have done this without the help of Sarah and all at Investment Sense, who have worked tirelessly on our behalf to make put this deal together for us."
Sarah concluded: "Arranging for five SIPPs to club together to buy a property, along with arranging the finance, was never going to be straightforward, but we got there in the end and we are delighted to have helped Peter, Dale and the other members of the group to have purchased the site and look forward to seeing it grow in months and years to come. It just shows what can be achieved with some hard work and a bit of 'out of the box' thinking."
Next steps
If you would like to discuss buying your business premises or indeed any issues relating to your pension then do not hesitate to contact Sarah on 0115 933 8433 or email her at sarah.bray@investmentsense.co.uk